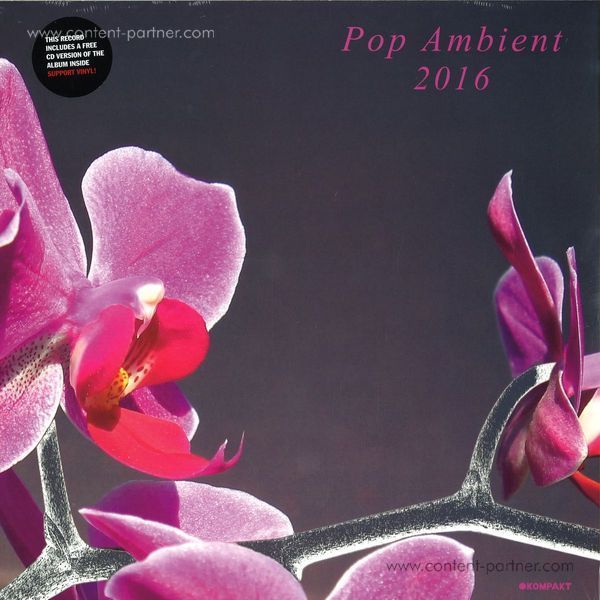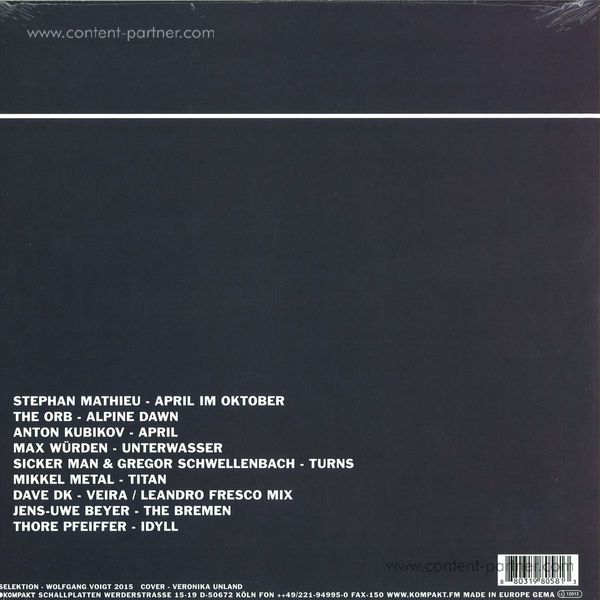 Pop Ambient 2016 (LP +CD)
Um den Artikel zu bestellen bitte dem Warenkorb hinzufügen und zur Kasse gehen.
1.
Stephan Mathieu - April Im Oktober
---
4.
Max Wurden - Unterwasser
---
5.
Sicker Man & Gregor Schwellenbach - Turns
---
6.
Wurden & Pfeiffer - Feinherb
---
8.
Dave Dk - Veira (Leonardo Fresco Mix)
---
9.
Wolfgang Voigt - Ruckverzauberung (Thore Pfeiffer Megamix)
---
10.
Jens Uwe Beyer - The Bremen
---
11.
Leandro Fresco - Configuracion De Ataque
---
12.
Thore Pfeiffer - Idyll
---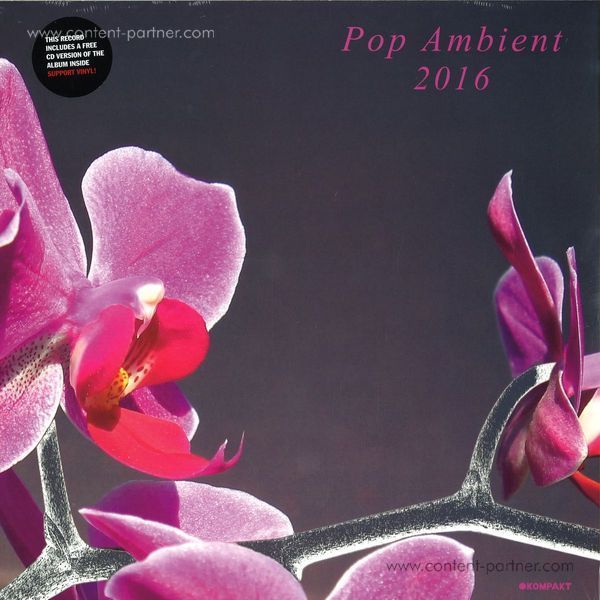 Beschreibung
It is certainly not a small feat to have an ambient compilation series running for over a decade and keep it fresh and interesting - especially when the core aesthetic idea is as well-defined as POP AMBIENT's. However, this didn't keep last year's instalment (KOMPAKT 315 CD 120) from finding a compelling balance between veteran contributors like JENS-UWE BEYER or LEANDRO FRESCO and new, idiosyncratic voices like MAX WÜRDEN or THORE PFEIFFER. They all return for POP AMBIENT 2016, joining a captivating cast that also includes heavy-weight soundsmiths, experimental composers and ambient confidants like THE ORB, ANTON KUBIKOV of SCSI-9 fame, MIKKEL METAL, GREGOR SCHWELLENBACH or STEPHAN MATHIEU.

Starting off with a surprise guest, POP AMBIENT 2016 presents electroacoustic composer and installation artist STEPHAN MATHIEU, whose highly textured opening drone APRIL IM OKTOBER bears all the hallmarks of a pop ambient classic, stealthily weaving in layers of sound and moving fluidly between territories. The man clearly knows what he's doing - after all, he has worked with luminaries like Taylor Dupree, Ekkehard Ehlers, Janek Schaefer or Sylvain Chauveau (see also Pop Ambient 2009). Meanwhile, THE ORB show off the full extent of their experience in the field and have their own little ambient collage opera going on in ALPINE DAWN - a slight detour from their beat-laden full-length MOONBUILDING 2703 AD (KOMPAKT 330 CD 124), but just on that same level of masterful sonic dexterity.

Moving forward, SCSI-9's ANTON KUBIKOV builds momentum with a sweet melody slowly evolving to the atmospheric backdrop of a light synth rain, while MAX WÜRDEN imagines a dreamy, yet twisted underwater world with lots of space to get lost in. He later returns for a collaboration with THORE PFEIFFER (not on vinyl), the other newcomer hero from Pop Ambient 2015, and the result is a fascinating amalgamation of both producer's distinct sonic sensibilities - the grittier, drone-based approach...