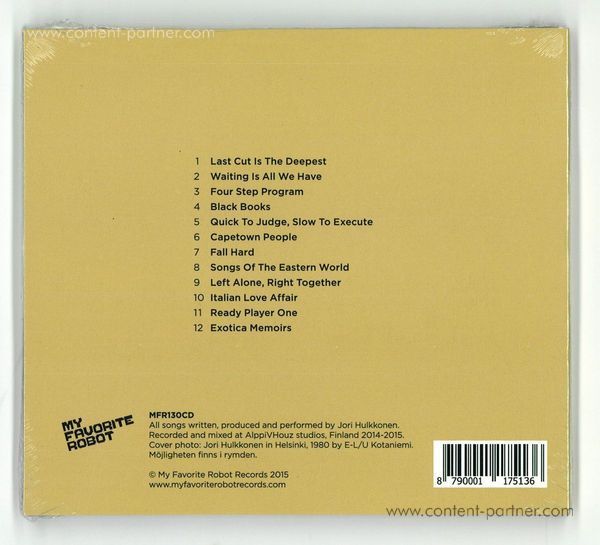 Oh But I Am (CD)
Genre:
Electro / Electronic
Um den Artikel zu bestellen bitte dem Warenkorb hinzufügen und zur Kasse gehen.
1.
Last Cut Is The Deepest
---
2.
Waiting Is All We Have
---
5.
Quick To Judge, Slow To Execute
---
8.
Songs Of The Eastern World
---
9.
Left Alone, Right Together
---
Beschreibung
Monikers through some of the most highly respected labels around including F Communication, Turbo and My Favorite Robot. Though he has been prolific in recent years his focus has been on a number of side projects including as Sin Cos Tan, Third Culture and Nuclear Winter Garden, now he returns with his first full Jori Hulkkonen album since 2009's 'Man From Earth'.

'Oh But I Am' is an eclectic and engaging collection of twelve songs from Jori, with influences taken from Italo disco, early 80's pop and classic house. Written over the past few years whilst working on his band and alternative projects, the LP captures the producers love of synth heavy, pop tinged songwriting in Opener, 'Last Cut is the Deepest' kicks things off with an acidic instrumental jam before launching into the etheral, balaeric workout that is 'Waiting is All We Have'. There are a brace of wonderful house inspired cuts in the albums interior including the hypnotic, 'Capetown People', the delightfully deep and cosmic 'Quick to Judge, Slow to Execute' and the electro influenced 'Songs of the Eastern World'. Jori's inner 80's pop star comes to the fore on the stunning 'Ready Player One' which is about as catchy as it gets whilst retaining a real depth and 'Italian Love Affair' is another gem that transports you back to an age of uplifting, hooky electronic melodies.

The LP concludes with the superbly loungy and ethereal 'Exotica Memoirs', leaving the listener with Jori's trademark otherworldly vocals echoing around in the recesses of This latest long player from scene stalwart Jori Hulkkonen truly is a triumph, a delightful mix of soaring melodies and heartfelt vocals that weave their way through a series of rich and perfectly balance productions, enjoy!