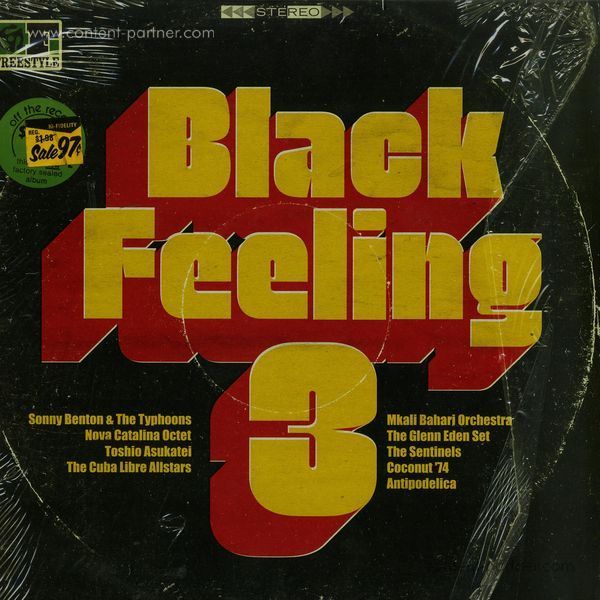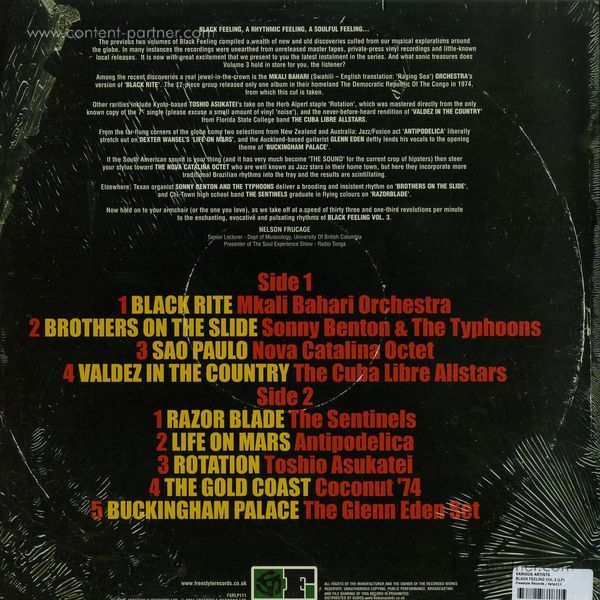 Um den Artikel zu bestellen bitte dem Warenkorb hinzufügen und zur Kasse gehen.
1.
Mkali Bahari Orchestra - Black Rite (4:33)
---
2.
Sonny Benton & The Typhoons - Brothers On The slide (5:27)
---
3.
Nova Catalina Octet - Sao Paulo (5:17)
---
4.
The Cuba Libre Allstars - Valdez In The Country (4:39)
---
5.
The Sentinels - Razor Blade (3:32)
---
6.
Antipodelica - Life On Mars (5:14)
---
7.
Toshio Asukatei - Rotation (5:58)
---
8.
Coconut '74 - The Gold Coast (3:41)
---
9.
The Glenn Eden Set - Buckingham Palace (5:03)
---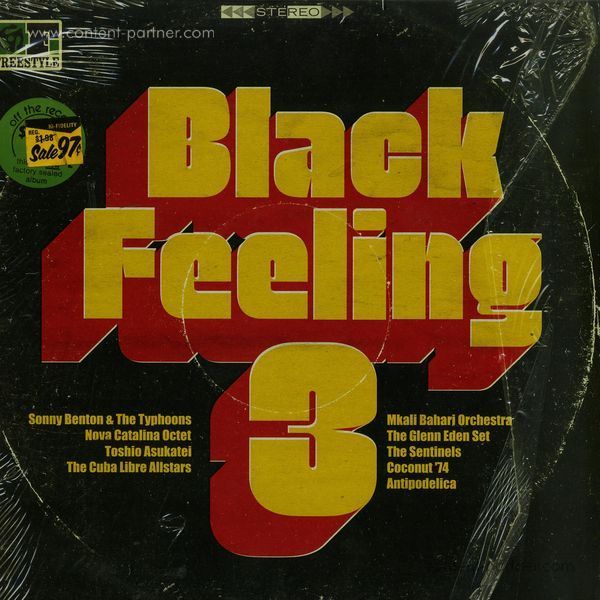 Beschreibung
The Black Feeling series on Freestyle Records reaches it's third edition. Presented as an old school collection of obscure covers versions funk, jazz & latin series classics by unheard of bands are in reality brand new re-interpetartions by Lance Ferguson - the Australian musical phenomen behind The Bamboos, Cookin' On' 3 Burners and Lanu.

The previous Black Feeling singles and albums have become worldwide smashes - Hippy Skippy Moonstrut from Volume 1 shifted masses of vinyl - and has had millions of You Tube viewings. Volume 2 yeilded up a version of Shaft In Africa that even Jazz FMs Peter Young said was better than Johnny Pate's original!

Volume 3 sees Dexter Wansel's Life On Mars get the Black Feeling treatment as well Herb Albert's Rotation, Cymande's Brothers On The Slide and Mandingo's Black Rite - all super heavy and sounding massive for dance floors!