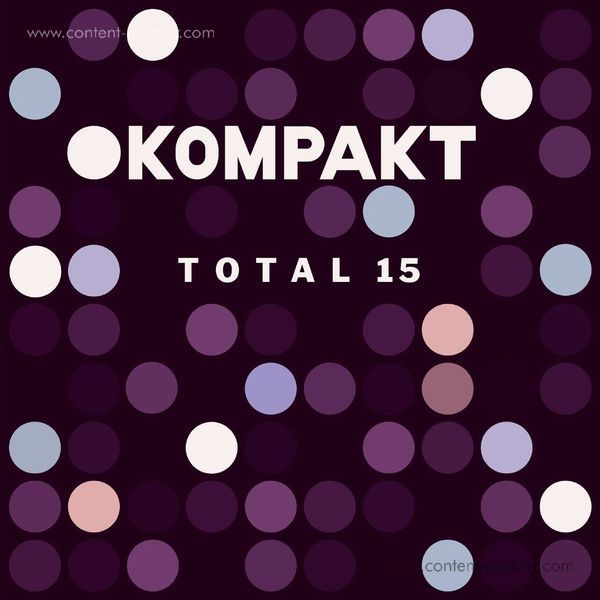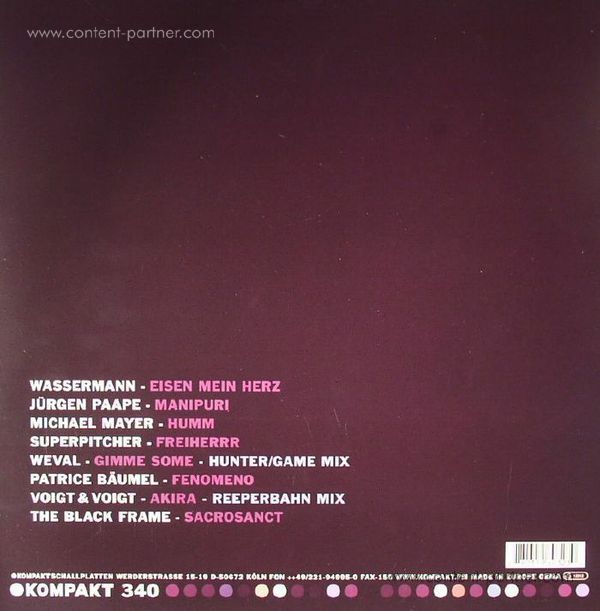 Total 15
Genre:
Electro / Electronic
Um den Artikel zu bestellen bitte dem Warenkorb hinzufügen und zur Kasse gehen.
1.
Wassermann - Eisen Mein Herz (7:47)
---
2.
Jurgen Paape - Manipuri (5:57)
---
3.
Michael Mayer - Humm (5:21)
---
4.
Superpitcher - Freiherr (8:08)
---
5.
Weval - Gimme Some (Hunter/Game mix) (5:58)
---
6.
Patrice Bäumel - Fenomeno (6:41)
---
7.
Voigt & Voigt - Akira (Reeperbahn mix) (5:17)
---
8.
The Black Frame - Sacrosanct (5:30)
---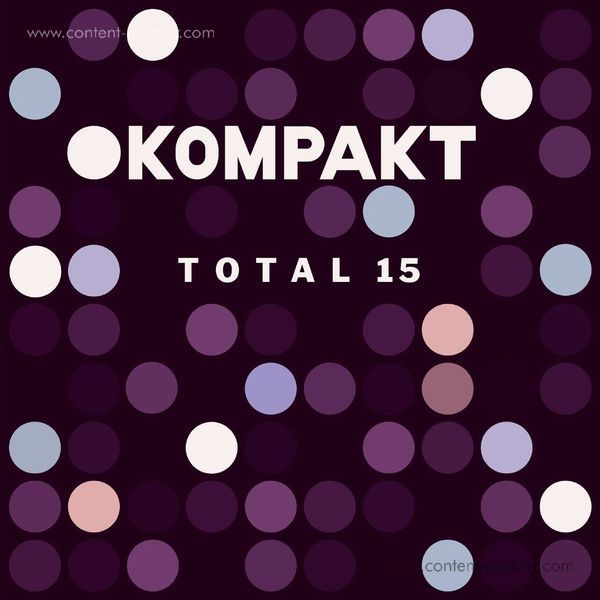 Beschreibung
Those of you following the TOTAL series already know, we also love to sneak in unreleased material - unheard original music from our core artists and most iconic projects, spiced up with exciting input from some of Kompakt's new inductees. For TOTAL 15, the return of Wolfgang Voigt's concept rave alter ego WASSERMANN certainly is one of the biggest showstoppers - his EISEN MEIN HERZ is an instant leftfield classic, coupling deconstructed text excerpts from Thomas Mann's "Confessions of Felix Krull" with a vintage beat 'n' bass combo in all its raucous glory .

JÜRGEN PAAPE lifts the veil on his latest sonic musings with the smart futurism from MANIPURI, followed by MICHAEL MAYER's pop concrete jewel HUMMM (vinyl only) and SUPERPITCHER's delirious flute stomper FREIHERR. Meanwhile, rising Dutch duo WEVAL gets a propelling, TOTAL-exclusive remix treatment from upcoming Speicher heroes HUNTER/GAME - a perfect companion to label ally PATRICE BÄUMEL who presents one of his finest vocal chop jobs so far in FENOMENO (vinyl only).

Which brings us to VOIGT & VOIGT's AKIRA: originally stemming from the duo's ground-breaking full-length DIE ZAUBERHAFTE WELT DER ANDEREN (KOMPAKT 274 CD 104), the new REEPERBAHN MIX (vinyl only) takes the mantra-like source material and infuses it with some decidedly grainy feel - a funky sound collage of field recordings, accordion and beats. Jörg Burger aka The Modernist has the honor to conclude the 2015 instalment of TOTAL with SACROSANCT, a cut from his new moniker THE BLACK FRAME and proof of Burger's indie pop sensibilities as well as his impressive skill set when it comes to unadulterated songwriting.