Um den Artikel zu bestellen bitte dem Warenkorb hinzufügen und zur Kasse gehen.
Beschreibung
Essential double vinyl compilation is available again. With three longplay sides of 25 original recordings produced by Inner Circle from the 70ies, plus one LP side of a special project with posthumously recorded combinations / remixes featuring Kymani Marley, Tony Rebel, Luciano and many more.

Jabob Miller was born May 10, 1952 and he had earned the title Jacob "Killer" Miller, since he 'killed' all competetors in concerts with his mighty opera style vocals and as a top showman and great personality. He was also a protege of Augustus Pablo with whom he made several records, he also became the vocalist for Inner Circle with whom he made the classic "Tenement Yard" (re-discovered these days by new generation & reggae revival artist star Chronixx). He was featured in the seminal film "Rockers", while he played an even more instrumental role in the 'One Love One Peace Concert' alongside Bob Marley. Signed by Island Records and Capitol Records, Inner Circle, and Miller especially, were being groomed for stardom when it was all brought to an abrupt halt when Miller's car hit a pole on Hope Road, Kingston, on May 23 1980.
Reggae
Jacob Miller
GREENSLEEVES
17,99 €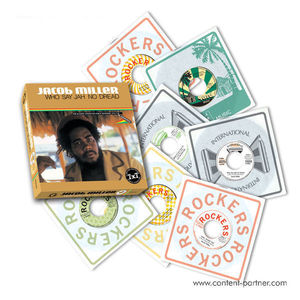 Reggae
Jacob Miller
Greensleeves
29,99 €