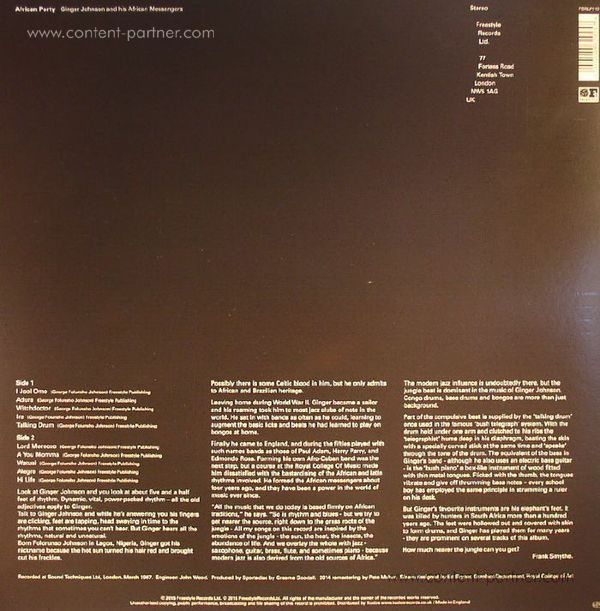 Um den Artikel zu bestellen bitte dem Warenkorb hinzufügen und zur Kasse gehen.
Beschreibung
Ginger Johnson's life is one of the greatest untold stories of African music in Europe. Born George Folunsho Johnson in Ijebu-Ode, Nigeria in 1916. Aged just 18 he joined the Nigerian Navy, and made his first visit to Britain. After World War II Ginger decided to make London his home, working with many artists including British saxophone legend Ronnie Scott who first really utilised Gingers amazing technique to full effect, featuring him in not only his live concerts, but also several recordings for the Esquire jazz label in the 1940's & 50's.

Aside from his music, Ginger was something of a social activist. Not only was he a musical educator, and instrumental in the beginnings of The Notting Hill Carnival, he also opened his own venue Club Iroko in Haverstock Hill, North London, which was a creative hub for groups like Osibisa, and also a welcoming hang out for visiting legends like Sun Ra, George Clinton and Funkadelic, and British group Cymande (3 members of Cymande cut their teeth playing in Gingers group).

Ginger and his group performed at The Royal Variety Performance, his music featured in the James Bond film 'Live & Let Die' and Ginger himself appears on screen drumming in the Hammer Films cult classic 'She'.

Perhaps Ginger Johnson & His African Messengers most high profile live engagement was performing with The Rolling Stones in Hyde Park in 1969, as Ginger his troupe provided the percussive, high energy rhythmic bedrock to the infamous live version of Sympathy For The Devil.

Freestyle Records is incredibly proud to reissue the music of Ginger Johnson & His African Messengers. Its bedrock of African drums, hi life, and jazz was in fact the precursor to Afrobeat - and Gingers direct and vital influence upon Afrobeat, as guide & mentor to it's undisputed champion Fela Kuti is just one part of a fascinating and underappreciated story that only now is being recognised for its significance.