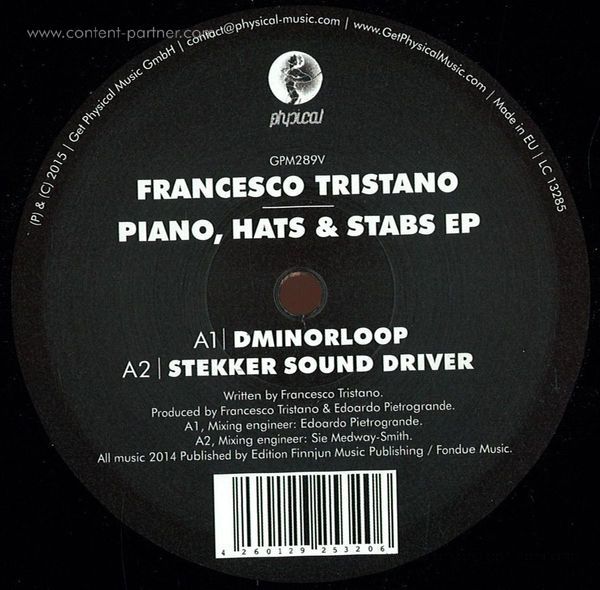 Um den Artikel zu bestellen bitte dem Warenkorb hinzufügen und zur Kasse gehen.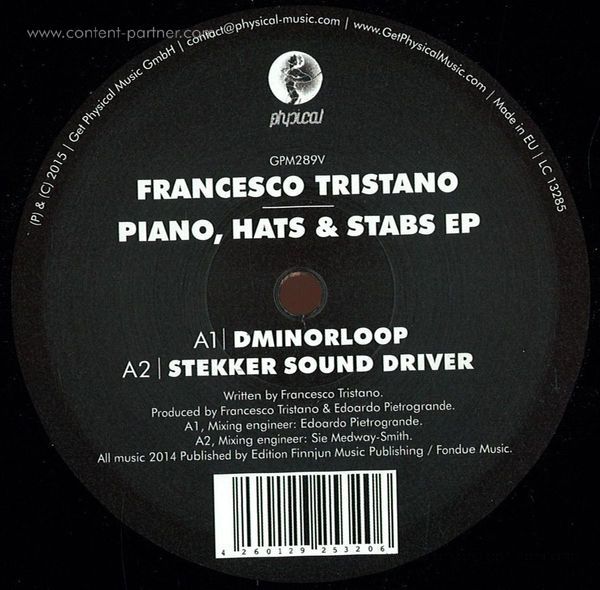 Beschreibung
We'd like to proudly announce GPM289 as a very special release, indeed. The occasion A Francesco Tristano's hand behind a set of five killer tracks that conform 'Piano, Hats & Stabs EP', an EP made for open-eared and open-minded listeners. Tristano, virtuoso pianist and composer known for his taste for the electronic and hybrid, has been blowing away dance music-heads for a while thanks to his impressive live sets solo and alongside the likes of Moritz von Oswald and Carl Craig - with whom he recently appeared on a special edition of Boiler Room. Now, Get Physical has the honor to be hosting the musician's even deeper delve into the world of techno. Inspired by an 'ongoing quest to unite the sounds of the acoustic grand piano with electronic synthesizers, sequences and drum loops", the 'Piano, Hats & Stabs EP' draws from over nine months of studio sessions all the way from Paris and Utrecht to Barcelona and Rome.

A tense and reeling monster of a release that would seem aimed at leaving you breathless - and setting dance floors on fire -, you can almost picture Tristano hunched over a grand piano, hammering away like a madman for the five tracks that take us from 'Dminorloop' split personality with its build-ups and deconstructions to the driving 'Sarasani', on to 'Stekker Sound Driver' decaying bassline and 'Gaza World Cup' chest-thumping roll. It all ends on a lighter note with 'Place on Lafayette' almost psychedelic keys - actually recorded on Lafayette Place, in Detroit.

Techno, Electronica, classical Its been said a good artist is one who can defy genres and titles, and we'll be damned if there was a bigger defyer than Francesco Tristano. 'This is, in the words of the great Paul Frick, 'elektronische Körpermusik'. Plainly, time to get physical... I am absolutely thrilled to have a release here.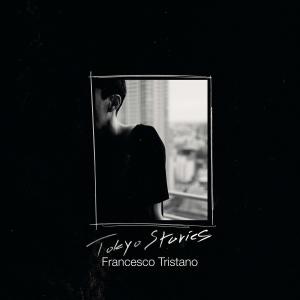 Klassik Crossover
Francesco Tristano
Diggers Factory/Sony Classical
36,99 €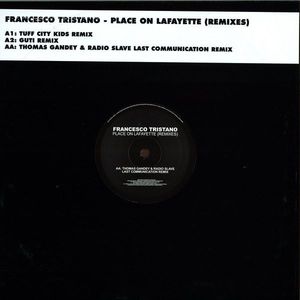 Deep House
Francesco Tristano
GET PHYSICAL MUSIC
8,59 €