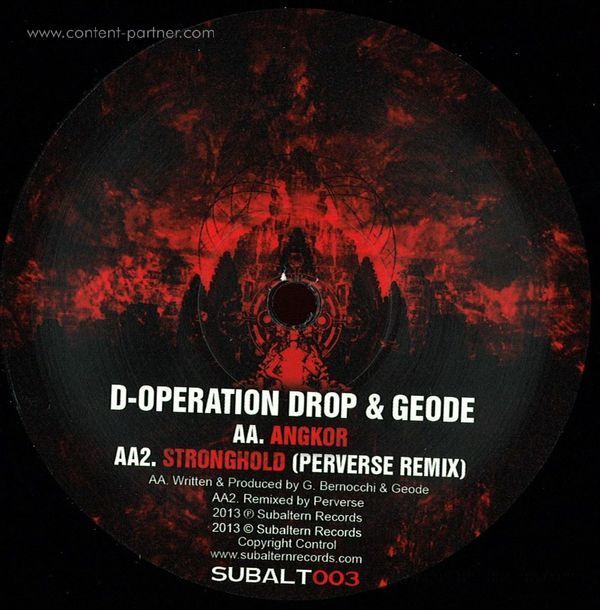 Um den Artikel zu bestellen bitte dem Warenkorb hinzufügen und zur Kasse gehen.
1.
D-Operation Drop - Stronghold
---
2.
D-Operation Drop & Geode - Angkor
---
3.
D-Operation Drop - Stronghold (Perverse Remix)
---
Beschreibung
FatKidOnFire Promo - 'Subaltern Records third 12" comes from Italy's mighty D-Operation Drop. The sinister power of 'Stronghold' has already earned the tune support from the likes of Distance, Razor Rekta and others, while New Zealand duo Perverse add their unique style to the remix. 'Angkor' sees Geode adding some UK flavour to the release, with heavy support from N-Type on Rinse.fm. This release is firmly cements Subaltern's reputation as a label pushing the genre forwards, following releases from Prism/Valor/Gantz, and Mentha/Murk/Ipman.'

One Forty Deep Blog - Subaltern Records will be releasing their third EP at the end of December featuring the production talents of D-Operation Drop, Geode and Perverse. It will be available as a 3 track vinyl and 4 track digital release.

There's plenty dark minimalism on display here, and all tracks are guaranteed to do maximum dancefloor damage. The lurching, rolling rhythms and pulsing subs providing ample support for the intense mids, eerie atmospherics and layered percs. Bonus digital track Breaking drops the tempo to 130, but maintains the 140 soundscaping.

This looks set to be an immense release for D-Operation Drop, and a great addition to Subaltern's flourishing catalogue.