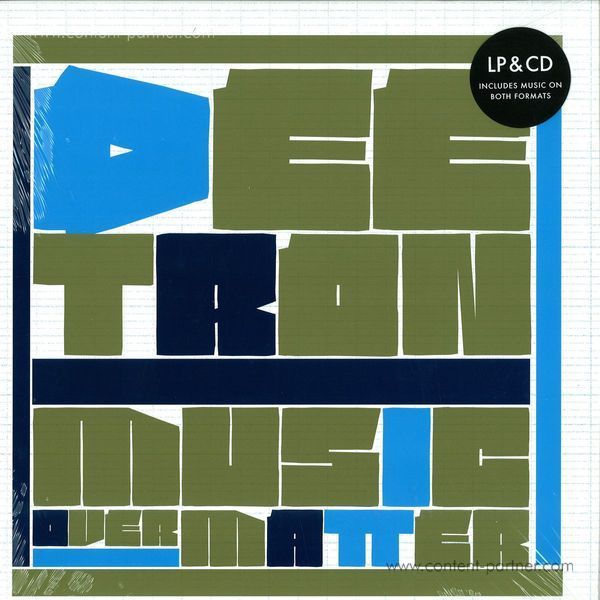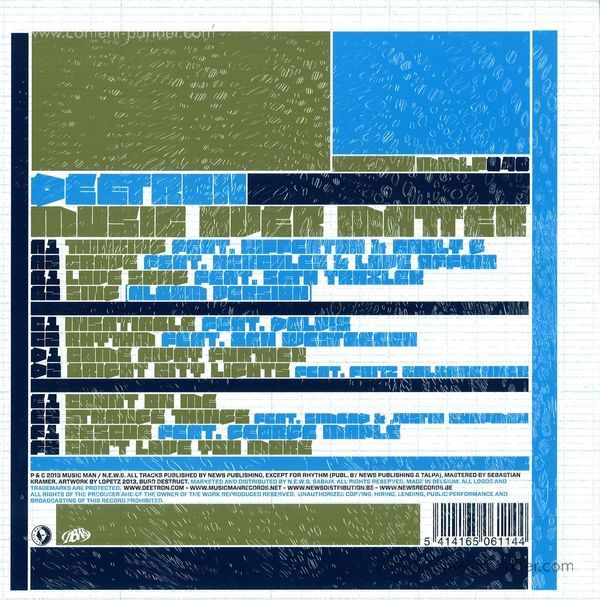 1.
Feat. Ripperton & Cooly G - Thinking
---
2.
Feat. Hercules & Love Affair - Crave (Original Mix)
---
3.
Feat. Seth Troxler - Love Song
---
5.
Feat. Delv!s - Insatiable
---
6.
Feat. Ben Westbeech - Rhythm
---
8.
Feat. Fritz Kalkbrenner - Bright City Lights
---
10.
Feat. Simbad & Justin Chapman - Strange Things
---
11.
Feat. George Maple - Rescue
---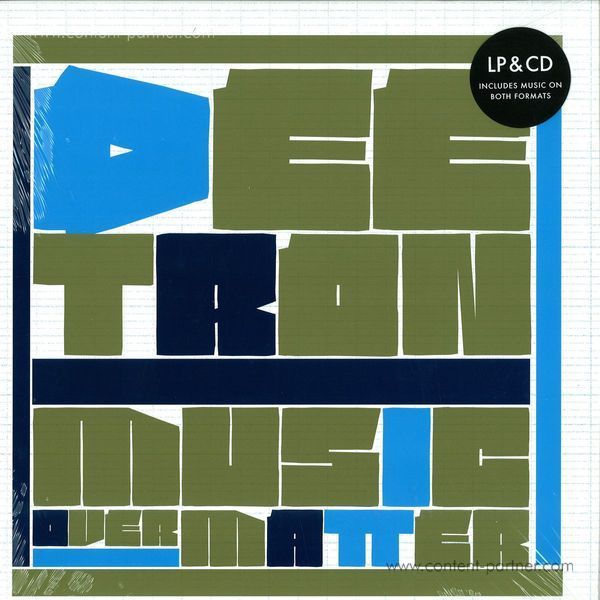 Beschreibung
A prismatic mosaic of vocal textures and expertly crafted grooves, Music Over Matter takes flight through the bounds of Deetron's musical persona, working vocals in unexpected ways through the deepest, most colorful and penetrating moments. A new facet to the multi-dimensional Deetron sound. From cranked up four to the floor and voluminous deep house grooves, to dream-sequence synths, elegant drum-programming and powerful melodic signatures, there is not a single moment of this album that won't thrill those craving a hefty interjection. Yet as motley and satisfyingly eclectic as they come, each track of the album is connected through a deep vein of soulful musicality.

Joining Deetron for the trip are old friends such as Ripperton and Cooly G, who lay the foundations for the album with their opening track 'Thinking' - glitchy scratchy Techno, which blends in perfectly to Deetron's collaboration with the inimitable, cosmic surfer Seth Troxler with whom he throws down a golden gauntlet of pitch-bent synths and heightening fervor with their hypnotic 'Love Song'.

Music Over Matter also features pure instrumental tracks by Deetron, including 'Sing', 'Come Away Further', 'Count on Me', 'Can't Love You More' and for your listening pleasure has added the 2011 hit 'Starblazer' as a bonus track.

From a producer, whose unrelenting passion is the mark of his music, Music Over Matter is a reflection of the vibrant landscape upon which he so fearlessly treads... A bold, panoramic stroke that will appeal to so many more than just the intrepid nomads of the underground.