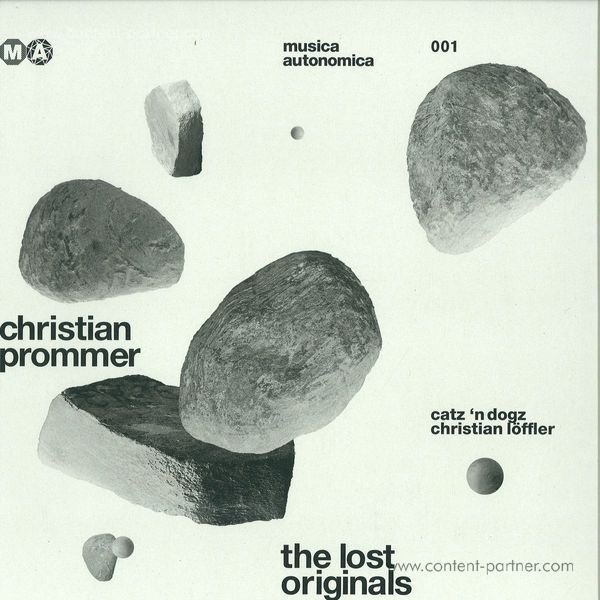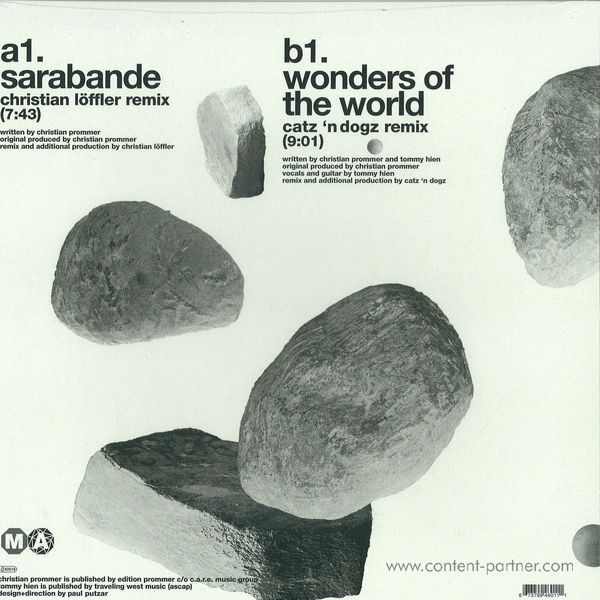 The Lost Originals (Catz 'N Dogs Remix)
Um den Artikel zu bestellen bitte dem Warenkorb hinzufügen und zur Kasse gehen.
1.
Sarabande (Christian Loffler Remix)
---
2.
Wonders Of The World (Catz 'n Dogz Remix)
---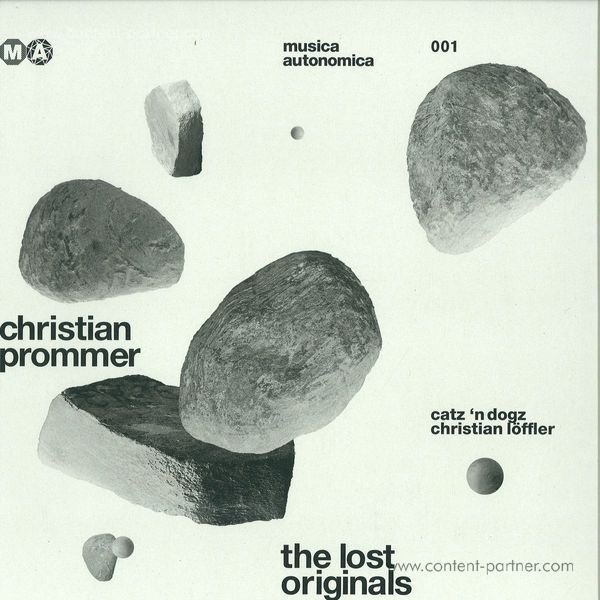 Beschreibung
Brand new label out of Munich city. Musica Autonomica. "We are devoted to the night and to the music. We see ourself as part of a special generation in a very unique time. With Musica Autonomica we share and spread our love for music with the world." The first release on Musica Autonomica from Munich based super producer Christian Prommer. Well known for his Drumlesson project or his numerous collaborations he is now working on a brand new solo project.

The original tracks for this Ep were planned as part of the new Christian Prommer album, but disappeared under mysterious circumstances after the parts have been sent to the remixers.They have to be reassembeled from the remix parts again. But the remixes turned out so great that we decided to give them to you first with no delay. The track Sarabande was given a futuristic and cinematic treatment by the german producer Christian Lffler. The remix sounds fantastic and its sound design is mind-blowing. Christian Prommer and Christian Lffler already shared a 12" on Life And Death records last spring. Christian Lffler has played this remix in his great live set at Sonar Festival and around the world. On Wonders Of The World, Christian Prommer teamed up with longtime friend and singer/songwriter Tommy Hien. The LA based bavarian musician co-wrote and sung the beautiful folk influenced song. It got a deep and driving dance floor rework from the polish deephouse maestros Catz `n Dogz. They took time out their super busy touring schedule to give this tune a lot of love and magic. The intro alone is a sensation. Musicality all the way. Catz n Dogz, Christian Lffler and Christian Prommer are regulars at the Galeria Autonomica and Rave Autonomica parties in southern germany. The next one with all three will be in munich at Olympiapark on September 1st.